A database containing information of more than 309 million Facebook profiles was left exposed online without a password or any authentication and now it is being sold on dark web and hacker forums for just $623.
Last month, security researcher Bob Diachenko discovered an Elasticsearch database of 267,140,436 leaked Facebook records posted on a Hacking forum for download.
According to Bob, most of the affected user records were from the United States and all of them seem to be valid that contained information such as Facebook IDs, phone numbers, full name, and a time stamp.
While the leaked records did not contain any passwords, but the other information in the database could be used by hackers to conduct large-scale SMS spam or phishing campaigns.
After the initial discovery, Diachenko immediately contacted the ISP managing the IP address of the server so that download access could be removed. The ISP acknowledged the database leak on their server and took it down offline.

Soon after, the second server was exposed that contained similar 267 Million records plus an additional 42 million that was posted on a hacking forum and indexed by search engine BinaryEdge. (Totalling 309 Million records)
25 million of those additional 41 Million records contained similar information such as Facebook IDs, phone numbers, and usernames.
16.8 million of the new records contained even more info, including, Facebook ID, phone number, DOBs, gender, email addresses, and some other personal details.
According to Comparitech, "Shortly after Diachenko discovered the second server, it was attacked by an unknown party and the databases of personal info were replaced with dummy data and database names that read, please_secure_your_servers."
Diachenko believed the trove of data was most likely the result of an illegal scraping operation or Facebook API abuse by cybercriminals in Vietnam, according to the evidence
The leaked data is now being sold for 500 Euros ($623):
This week, security researchers at Cyble found the previously leaked data of 267 million Facebook identities are now being sold on a hacking forum named Shoppy for just 500 Euros ($623).
Researchers at Cyble also confirmed the legitimacy of leaked data after purchasing it on the same site where it was published by the hackers: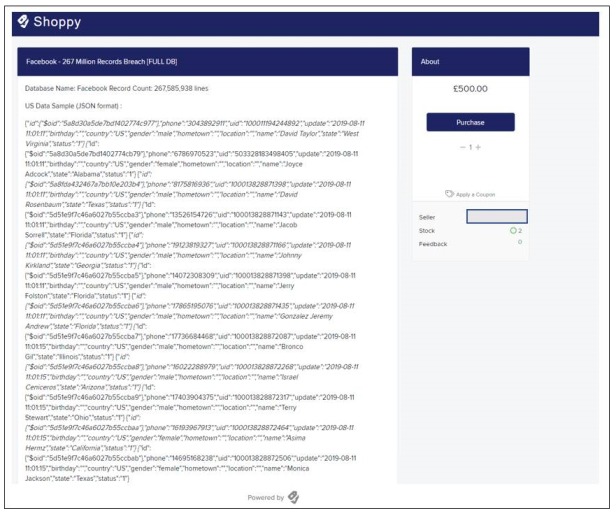 The impacted users will be able to verify this on Cyble's data breach monitoring platform, AmIbreached.com shortly.
How can this database leak affect you?
The leaked database doesn't contain your Facebook profile password but still contain your private information such as email address and phone numbers.
If your Facebook information is leaked via this database or fallen in the hands of a hacker, you could be a victim to spear-phishing campaigns that aim to steal your facebook password.
Cyble recommends users to tighten their privacy settings on their Facebook profiles, and be cautious of unsolicited emails and text messages.
---
Read Also: Hackers published citizen's personal data of the entire Georgia country